---
BMWdiy.INFO
E39 Rear Fender Pulling
(Notes)
---
Prepared by VietSB
Modified 04.15.02



NOTE: Perform these steps at your own risk. All P/N's listed are a "best guess", so please double-check with your local dealer. These mods and repairs were performed on my US-spec 1997 540iA (11/96 prod date, M62 engine) but there is no guarantee they will work on other E39's. These instructions are provided for entertainment purposes only!
---
BACKGROUND: Fender rolling and M5 liners generally won't solve the last trouble spot for rubbing - the rear metal fender portion right where it joins up with the bumper, especially on the passenger-side. As a last resort, this is the answer. I would highly recommend having a qualified body shop do this work since they'll have the tools and expertise to prevent costly body or paint damage if the fender buckles or creases, etc.
---
Required Tools:
Hydraulic pushing tool
Bracing material (wood)
---
1. Remove the wheel, clean the area to be pushed, properly brace the hydraulic tool, and proceed to push out the area a few times. There are a couple other minor tricks a body shop will possible have to prevent damage and make the procedure reshape the fender properly.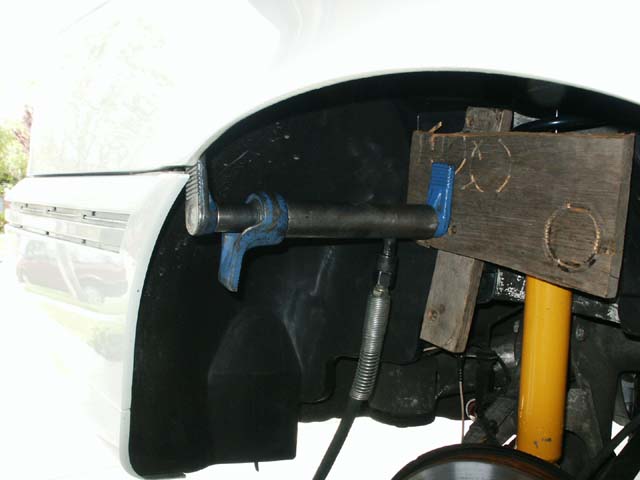 No rubbing at all now!
---
2. If you require fender rolling, click here for those DIY notes. If you require M5 liners, click here.
---
| | |
| --- | --- |
| Questions? Comments? E-mail me: | . |
Click Here to return to the Main Menu.
---
Optimized for 800x600 or higher resolution.
Copyright &copy Midnight Designs, 2002-2003. All Rights Reserved. All images and registered trademarks are used to benefit and without intent to infringe on the holder. Contents Subject to Change Without Notice.