---
BMWdiy.INFO
E39 Universal Garage Door Opener
(UGDO) Booster

---
Prepared by VietSB
Modified 09.28.03



NOTE: Perform these steps at your own risk. All P/N's listed are a "best guess", so please double-check with your local dealer. These mods and repairs were performed on my US-spec 1997 540iA (11/96 prod date, M62 engine) but there is no guarantee they will work on other E39's. These instructions are provided for entertainment purposes only!
---
BACKGROUND: Compared to the range of the handheld transmitter and my parent's Benz UGDO (built into mirror), my newly installed UGDO's range was "lacking". My front wheels usually had to be touching the driveway before it would work. I contacted the nice folks at Johnson Controls who developed the HomeLink technology for assistance. After trying some of their troubleshooting recommendations, such as reprogramming with a fresh transmitter battery, they sent me a "booster kit" which appears to be a strip of aluminum with an adhesive backing. After installation, my UGDO works *much* better.
---
Required Parts:
Booster kit from Johnson Controls (Unknown if still available or complimentary, but I've heard they might not offer it anymore.)
Required Tools:
Wire cutters to trim the aluminum
---
1. Remove the UGDO panel as per the UGDO instructions by removing the light panel, then the panel holding the sunroof switch/cell phone mic/UGDO. Unplug the appropriate wiring harnesses to free the panel.
---
2. Simply lay down the aluminum strip to conform to the basic outline of the top left side of the UGDO. Trim pieces of the aluminum strip if necessary as well as the foam pad to ensure a clean fit. Remove the adhesive protection strip and apply the aluminum strip till snug.

If Johnson Controls no longer offers the kit, making your own aluminum strip works as well according to Larry69RT. He used folded Reynolds aluminum foil, laid out just as shown in the picture and adhered using double-sided tape.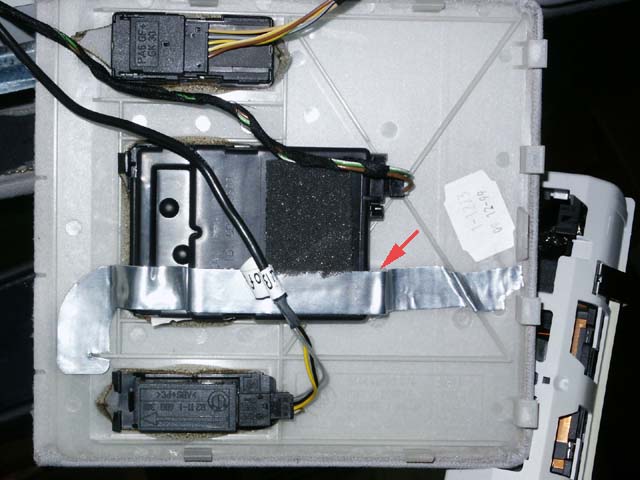 ---
3. If you installed the UGDO retro-fit kit and the keypad buttons don't illuminate when the parking lights are on, click here to view the DIY instructions on a possible fix.
---
| | |
| --- | --- |
| Questions? Comments? E-mail me: | . |
Click Here to return to the Main Menu.
---
Optimized for 800x600 or higher resolution.
Copyright &copy Midnight Designs, 2002-2003. All Rights Reserved. All images and registered trademarks are used to benefit and without intent to infringe on the holder. Contents Subject to Change Without Notice.